3). User-Level Security Wizard
From here you can created a new MDW file to protect your Access Database. The wizard will guide you for creating a new MDW security file and for creating new users, assign groups to users, assigning permissions to individual user or group in the internal step of the wizard. When you click on the option, first window of the wizard appears as shown in Fig-3.1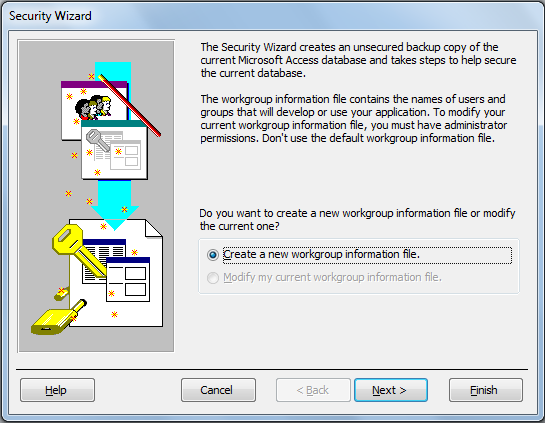 Fig-3.1
Now to open a database with logon window you have two options-
On the window option Create a new workgroup information file is selected. This shows that you are going to create a new mdw security file for your opened access database. Just click Next from here.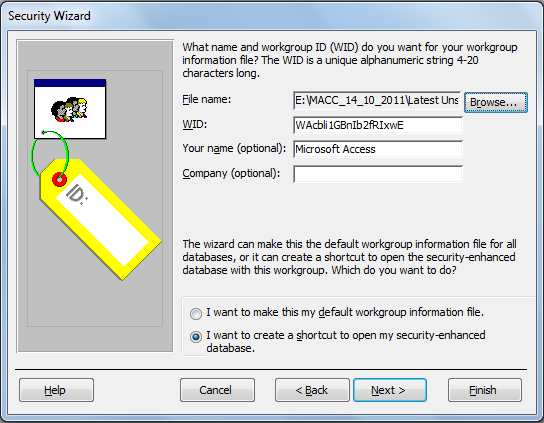 Fig-3.2
Next window allows you to define location of the new MDW window that will be created after completing the wizard. You can define the location (including file name) by clicking on the Browse button on the form-A auto generated workgroup ID will reflect on the WID textbox. You need not to change this auto generated value. Optionally you can also define your name as sell as your company name here.
There are two radio buttons on the form. First option allows you to make this MDW file your default MDW file for all access databases in place of System.mdw file. Second option creates a separate MDW security file and you can open a database with this MDW file by using shortcut tips (will be discussed later). Make sure you select second option as we do not want to make this MDW as default security file for all access databases. Now clicks on the Next button.
Next window allows you to select database objects to which you want to put security permissions as shown in Fig-3.3. By default all database objects are selected. From here you can deselect the object by clicking on the check box in front on object name. We are going to set permissions on all objects. So leave all the objects selected and click on the Next button on the form.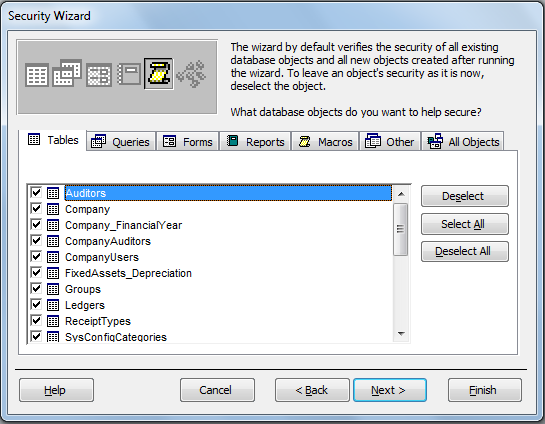 Fig-3.3
Next window shows in build groups those have different permissions on the database. You can see the description of their permissions by selecting the group and reading the permission description on the area of the form that have heading Group Permissions.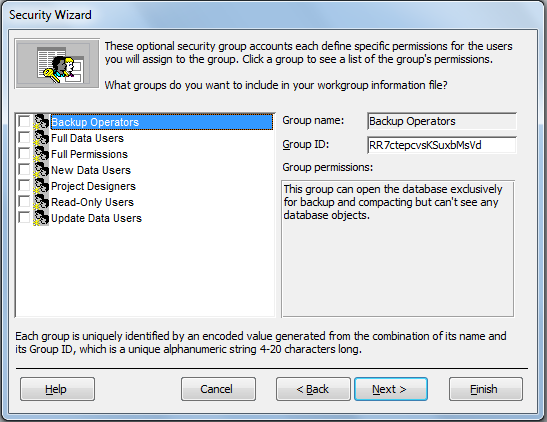 Fig-3.4
Here GroupID uniquely identifies the group, it contains auto generated value and maintain internal by access database engine. So do not change the GroupID value here. After reading all groups permissions description, you will have an idea of what area of database, users of a group can access. You can optionally select any group from here by checking the checkbox in front of the group name. After doing your selection, click on the Next button.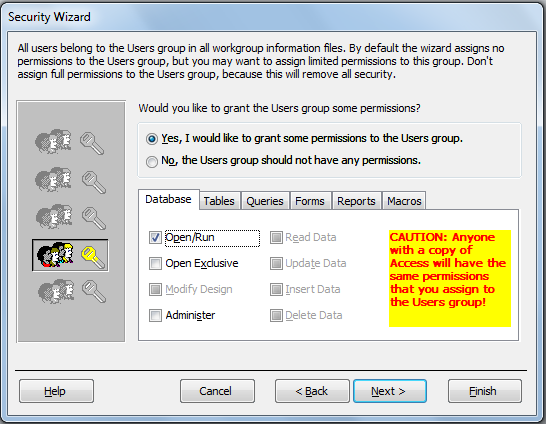 Fig-3.5
As we know any MDW file must contains two groups (Admins and Users). Optionally you can add new groups to the file either by the previous step or by 'User and Group Account' discussed previously. By default Admins group has full access to the database. You can set the permission of Users Group from this window in this step of the wizard. As shown in Fig- 3.5, I gave open database permission to the Users group. So any user who belongs to this group can only open the database. Nothing else he can do. So from here, you can set permissions on each object types of the database to all users belong to the Users group. After setting these permissions click on the Next button for further steps.
Next window allows you to create new user to the security file. By default a user based on the window user will be in the list. You can create your own users by specifying user's name and password as shown in Fig- 3.6. Here PID uniquely identifies each user in the list, by default it show an auto generated value for the PID, you can change it but it must be unique. As it is internally maintain by Access database engine, so you do not need to change this value. Click on the 'Add This User in the List' button adds the user. From here you can also delete a user by selecting the user from the list and clicking on the 'Delete User from the List' button on the form.
After defining your entire user, click on the next button for further step of the MDW file creation wizard. In the next step you can assign your users to the groups. Here I have two options. Assigning users to groups or assigning groups to user. Select what you want, both put the same effect. As shown in Fig- 3.7, I assign Admins group to the user named ABC (I created on the previous step).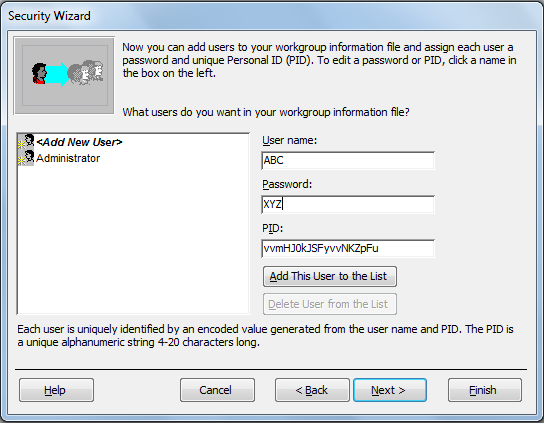 Fig-3.6
Note: - There must be one User that belongs to the Admins Group. The group is created internally by ADE and has full access to the database. Persons like DBA, System Owner, come under this Group.
Fig-3.7
After assigning user to groups or groups to users, click on the next step of the wizard. Last window of the wizard allow you to define location at which the backup of your database can be placed. Before applying security on you database, the wizard takes the backup of it and put it on the location selected by user from here as shown in Fig- 3.8.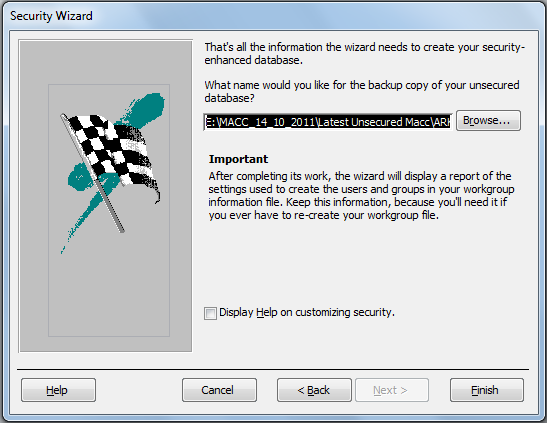 Fig-3.8
After selecting the database backup location, click on the Finish button to complete the wizard. When you click on the button, a report which contains information related to users, their passwords, their assigning group appears as shown in Fig- 3.9. As this is confidential information save it to the secured location. You will need this file whenever in the future you need to re-create your workgroup file.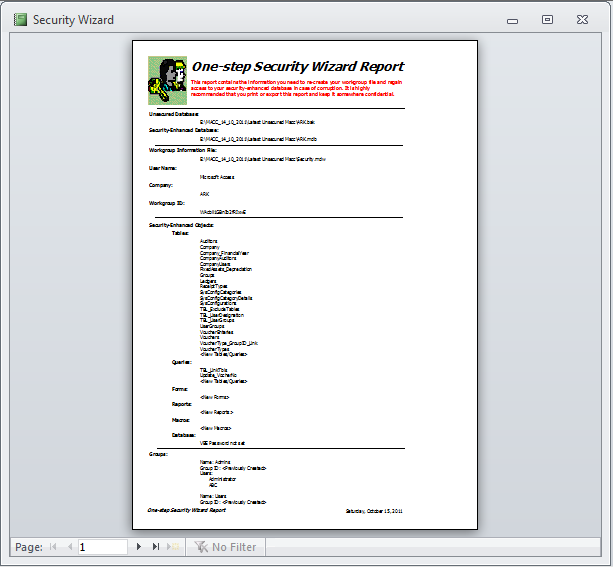 Fig-3.9
Now your database security file is created on the location defined by you in second step of the wizard. Unfortunately by default, your database is not opened with this security file. When you double click on the database, it will open by using System.mdw security file. You have to do some extra work for your desired expectations.
I will tell you how you can set the default security file to a database programmatically but before that I am going to discuss something that generally confuse persons who secure their access database in this way.
As we know if we do not apply trick to open an access database with the desired MDW file. Database is opened by Admin user in the default System.mdw file. When you create your own security file, the wizard (discussed previously) internally creates a user named 'Admin' and assign Users group to him. As in the fifth step of the wizard, we assign permission to the Users groups. All the permission applied on that time for Users group, will apply for this Admin user as he is a member of this group.
Now if you open you database by double clicking on it, it will be opened by the Admin user and nothing else he can do because we only set database opening permissions to the user's group. So in this way you can protect you database, when you do not want to give you MDW file along with the database to someone.
When you open a secured database by double clicking on it, Admin user of system.mdw file will be used to open the database in this way. Now if you check this user's permissions (checking permissions process discussed earlier), you will find that the user is not an owner of database objects as shown in Fig- 4. So he can do nothing with the database except opening it as we give database opening permission to it.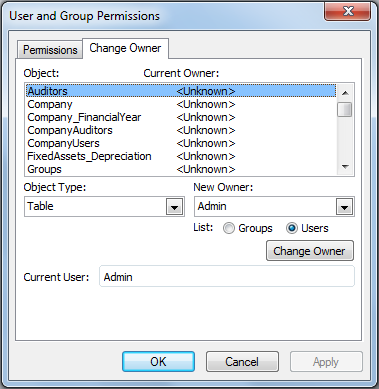 Fig-4
Let's discuss different ways to open a access database with the security file we created in the previous step.