How to change Document Window Options using VBA Code:-
This procedure is helpful when you are using MS Access Runtime. Where "File Ribbon is not present to make changes into current database properties".
The property set to fulfill this is CurrentDb.Properties ("UseMDIMode"). It's 1 result for "Overlapping Windows", and 0 will result for "Tabbed Documents".
This property is supported by MS Access 2007 and later versions.This will not work more with .MDB, .MDW and Access RunTime versions erlier than 2007.
User need to close and reopen the database for the property to be changed. Here is an example shown in Fig:-2.1.1, using this code to set "Document Window Options "properties. "Change Window View" button open up a form with the options "Overlapping Windows" and "Tabbed Documents".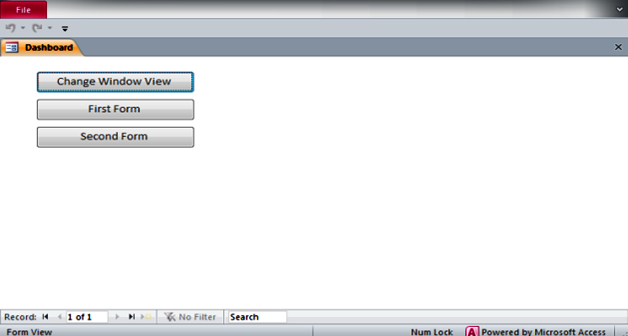 Fig:-2.1.1
When you click on Overlapping Window button a message box appear with message to reopen the current database as shown in Fig :-2.1.2.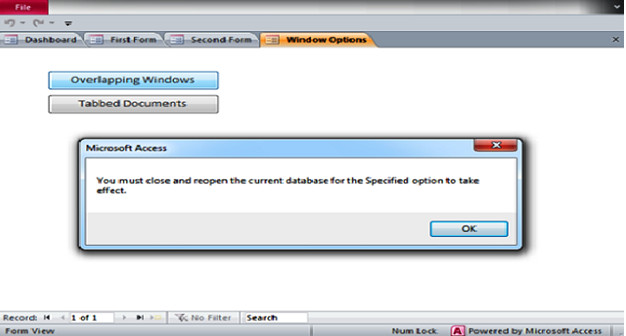 Fig:-2.1.2
When user will reopen the database then object window will appear in overlapping view. Shown in Fig:-2.1.3.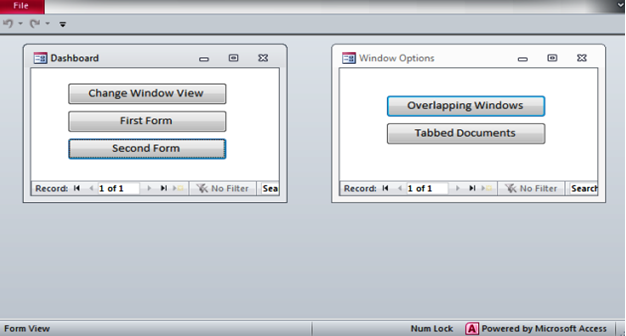 Fig:-2.1.3
User can change the view from Overlpping Window to Tabbed Documents by clicking on"Tabbed Documents" and could see changes by reopening the database.
VBA Code given below:-
Private Sub cmdOverlappingWindows_Click ()
CurrentDb.Properties ("useMDIMode") = 1
MsgBox "You must close and reopen the current database for the Specified option to take effect."
End Sub
Private Sub cmdTabbedDocuments_Click ()
CurrentDb.Properties ("useMDIMode") = 0
MsgBox "You must close and reopen the current database for the Specified option to take effect."
End Sub
NOTE:- One can check that either the current database is having "useMDIMode" property or not, by using HasProperty() method. And if it is not present then user can append the property. VBA Code for this procedure is given below:-
Public Function SetPropertyDAO() As Boolean
On Error GoTo ErrHandler
Dim obj As Object
Set obj = CurrentDb
If HasProperty (obj, "UseMDIMode") Then
obj.Properties("UseMDIMode") = False
Else
obj.Properties. Append obj.CreateProperty ("UseMDIMode", dbByte, False)
End If
SetPropertyDAO = True
ErrHandler:
Exit Function
End Function
Private Function HasProperty(obj As Object, strPropName As String) As Boolean
Dim varDummy As Variant
On Error Resume Next
varDummy = obj.Properties(strPropName)
HasProperty = (Err.Number = 0)
End Function
---