How to create "Auto Number" field in a Query
Here this article is to guide you to resolve a problem to towards creating an auto number field inside a query.
Here's given a simple example to create 'Auto number' field in the query, none of the fields has unique values, and I am trying to add a field with 'Auto Number'.
Here created a table with two fields and none of them is having unique key. Fig: - 1.1 shows the table.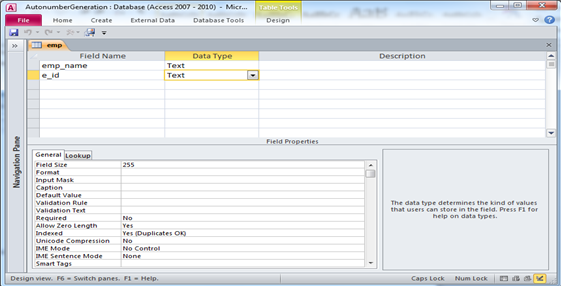 Fig:-1.1
Here a query is created; the query is using the same table with two aliases. There is not any unique key defined in the table. As shown in Fig:- 1.2.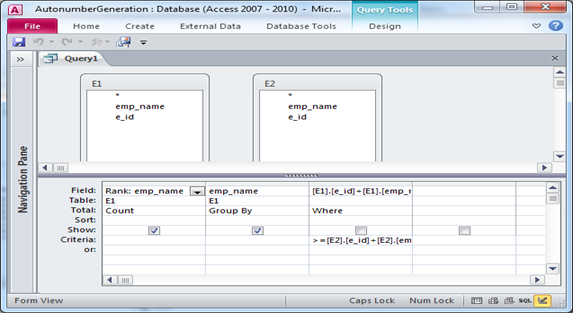 Fig:-1.2
The above query will generate the following result, shown in Fig: - 1.3. The first generated is an Auto number field.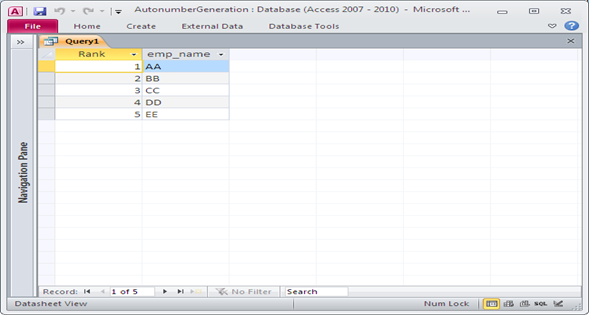 Fig:-1.3
SQL for the above Query is given below:-
SQL QUERY: SELECT Count (E1.emp_name) AS Rank, E1.emp_name
FROM emp AS E1, emp AS E2
WHERE ((([E1].[e_id]+[E1].[emp_name])>=[E2].[e_id]+[E2].[emp_name]))
GROUP BY E1.emp_name;
---