Navigation on Microsoft Access form using macros
This article is on how to navigate on form using macros. For navigation on form we have current form, previous form and next form. We are using macros for navigation .When we execute the macro automatically the navigation is working followed by the procedure.
Firstly we have to create the table as shown in Fig 1.1.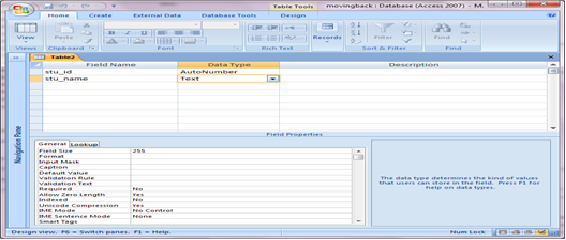 Fig:-1.1
Then we have to create the related form as shown in Fig 1.2. And also we have to make three copies of that form for current, next and previous form navigation. Also we have write code for Button events.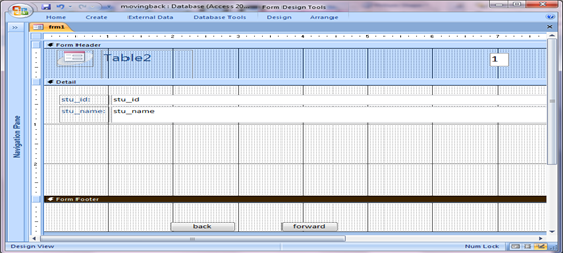 Fig:-1.2
Then we have created the macro as shown in Fig 1.3. And we have the set the navigation procedure.
We have to set the window mode argument Hidden to all and one for Normal, So that only one form is activated on one time.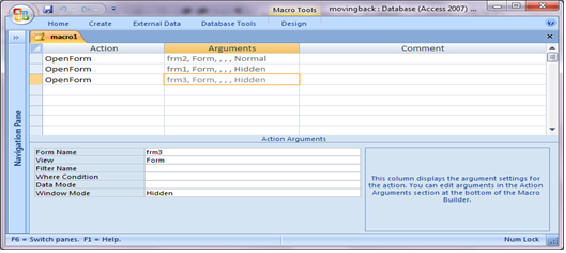 Fig:-1.3
Now run the Macro after the coding part and click on next and forward button, it will make you Navigate through different forms as shown in Fig 1.4.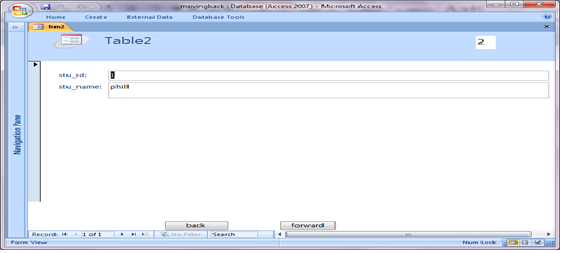 Fig:-1.4
VBA code for form Navigation:
Option Compare Database Private Sub Forward_Click() Back_forward "F", Me.Name End Sub Private Sub Back_Click() Back_forward "B", Me.Name End Sub Public Function Back_forward(ByVal strStatus As String, ByVal strForm As String) Dim count As Integer Dim icnt As Integer count = Forms.count - 1 On Error GoTo Back_forward_Err count = Forms.count - 1 For icnt = 0 To count Select Case strStatus Case "B" If Forms(icnt).Name = strForm And icnt - 1 >= 0 Then DoCmd.SelectObject acForm, Forms(icnt - 1).Name, False Forms(strForm).Visible = False Forms(icnt - 1).Visible = True Exit For End If Case "F" If Forms(icnt).Name = strForm And count > icnt Then DoCmd.SelectObject acForm, Forms(icnt + 1).Name, False Forms(strForm).Visible = False Forms(icnt + 1).Visible = True Exit For End If End Select Next Back_forward_Exit: Exit Function Back_forward_Err: MsgBox Err & ":" & Err.Description, , "Back_forward()" Resume Back_forward_Exit End Function
---