Convert currency into words in Microsoft Access using VBA
Many times we need the amount in figures to be converted into words. Converters usually display a value that is useful in accounting and invoicing and preparing financial plans and reports. This is a typical requirement for writing checks or any other financial reports.
In this article we are convert currency which is given in number into words, we can use it into report and invoice coding where we can change easily number/currency into words. For implementation that code firstly we have to create the Form with following design as shown in Fig 1.1.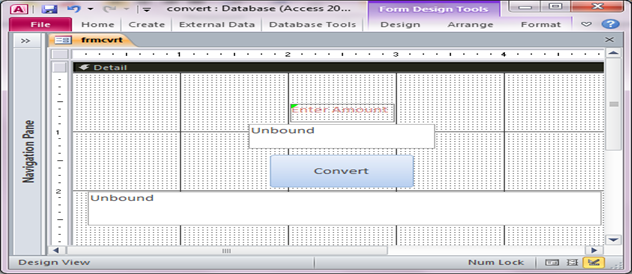 Fig:-1.1
You can see here after code implement in figure 1.2.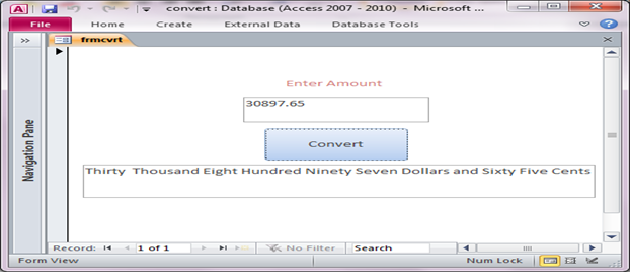 Fig:-1.2
VBA CODE :
Option Compare Database Private Sub btn1_Click() Me!txt2.Value = wsiSpellNumber(Me!txt1.Value) End Sub Public Function wsiSpellNumber(ByVal MyNumber) Dim Dollars, Cents, Temp Dim DecimalPlace, Count ReDim Place(9) As String Place(2) = " Thousand " Place(3) = " Million " Place(4) = " Billion " Place(5) = " Trillion " ' String representation of amount. MyNumber = Trim(Str(MyNumber)) ' Position of decimal place 0 if none. DecimalPlace = InStr(MyNumber, ".") ' Convert cents and set MyNumber to dollar amount. If DecimalPlace > 0 Then Cents = GetTens(Left(Mid(MyNumber, DecimalPlace + 1) & _ "00", 2)) MyNumber = Trim(Left(MyNumber, DecimalPlace - 1)) End If Count = 1 Do While MyNumber <> "" Temp = GetHundreds(Right(MyNumber, 3)) If Temp <> "" Then Dollars = Temp & Place(Count) & Dollars If Len(MyNumber) > 3 Then MyNumber = Left(MyNumber, Len(MyNumber) - 3) Else MyNumber = "" End If Count = Count + 1 Loop Select Case Dollars Case "" Dollars = "No Dollars" Case "One" Dollars = "One Dollar" Case Else Dollars = Dollars & " Dollars" End Select Select Case Cents Case "" Cents = " and No Cents" Case "One" Cents = " and One Cent" Case Else Cents = " and " & Cents & " Cents" End Select wsiSpellNumber = Dollars & Cents End Function ' Converts a number from 100-999 into text Function GetHundreds(ByVal MyNumber) Dim result As String If Val(MyNumber) = 0 Then Exit Function MyNumber = Right("000" & MyNumber, 3) ' Convert the hundreds place. If Mid(MyNumber, 1, 1) <> "0" Then result = GetDigit(Mid(MyNumber, 1, 1)) & " Hundred " End If ' Convert the tens and ones place. If Mid(MyNumber, 2, 1) <> "0" Then result = result & GetTens(Mid(MyNumber, 2)) Else result = result & GetDigit(Mid(MyNumber, 3)) End If GetHundreds = result End Function ' Converts a number from 10 to 99 into text. Function GetTens(TensText) Dim result As String result = "" ' Null out the temporary function value. If Val(Left(TensText, 1)) = 1 Then ' If value between 10-19... Select Case Val(TensText) Case 10: result = "Ten" Case 11: result = "Eleven" Case 12: result = "Twelve" Case 13: result = "Thirteen" Case 14: result = "Fourteen" Case 15: result = "Fifteen" Case 16: result = "Sixteen" Case 17: result = "Seventeen" Case 18: result = "Eighteen" Case 19: result = "Nineteen" Case Else End Select Else ' If value between 20-99... Select Case Val(Left(TensText, 1)) Case 2: result = "Twenty " Case 3: result = "Thirty " Case 4: result = "Forty " Case 5: result = "Fifty " Case 6: result = "Sixty " Case 7: result = "Seventy " Case 8: result = "Eighty " Case 9: result = "Ninety " Case Else End Select result = result & GetDigit _ (Right(TensText, 1)) ' Retrieve ones place. End If GetTens = result End Function ' Converts a number from 1 to 9 into text. Function GetDigit(Digit) Select Case Val(Digit) Case 1: GetDigit = "One" Case 2: GetDigit = "Two" Case 3: GetDigit = "Three" Case 4: GetDigit = "Four" Case 5: GetDigit = "Five" Case 6: GetDigit = "Six" Case 7: GetDigit = "Seven" Case 8: GetDigit = "Eight" Case 9: GetDigit = "Nine" Case Else: GetDigit = "" End Select End Function
---