Creating form controls using MS Access VBA coding
This article illustrates a very simple approach to generate form controls using VBA coding in MS Access. A simple automation feature enables me to accomplish this task. Article provides adequate knowledge to exploit this feature and could be used in any kind of automation tool.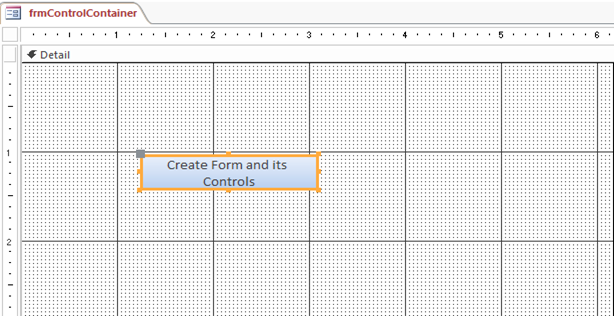 Fig:-1.1
As shown in Fig 1.1 in next step first of all we have to create database with form named frmControlContainer .Form will contain a button named Form and its Controls. Moreover we will be creating a table along with common fields .Purpose of that table is to get bounded with form that is going to create during run time.
As shown in Fig 1.2 now create a table named tblCustomerOrder along with four different field.This table will be served as a record source for form to be generated using VBA Coding.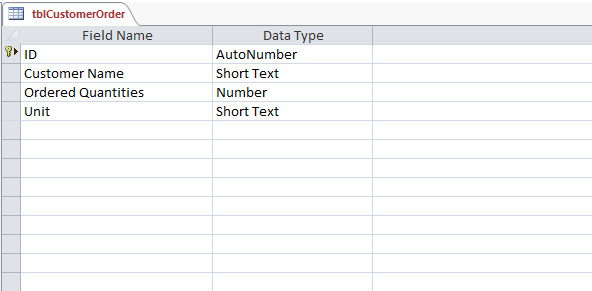 Fig:-1.2
Finally when you click on button new form named Form1 will be created along with required controls in it.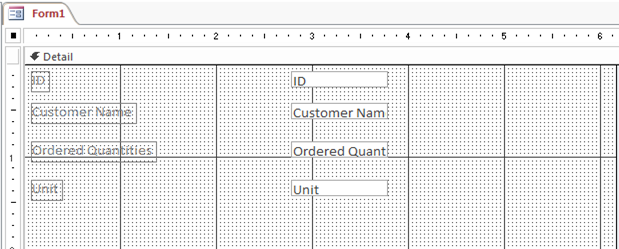 Fig:-1.3
VBA Code set to On Click event of button:-
Private Sub cmdCreateControls_Click() Dim frm As Form
Dim cntrlLabel As Control, cntrlText As Control
Dim intDatX As Integer, intDatY As Integer
Dim intLblX As Integer, intLblY As Integer
' Create new form with Orders table as its record source.
> Set frm = CreateForm
frm.RecordSource = "tblCustomerOrder"
' Set positioning values for new controls.
intLblX = 100 intLblY = 100 intDatX = 1000 intDatY = 100 ' Create unbound default-size text box in detail section. ' for ID field Set cntrlText = CreateControl(frm.Name, acTextBox, , "", "ID", intDatX * 4, intDatY) Set cntrlLabel = CreateControl(frm.Name, acLabel, , cntrlText.Name, "ID", intLblX, intLblY) ' for Customer Name field Set cntrlText = CreateControl(frm.Name, acTextBox, , "", "Customer Name", intDatX * 4, intDatY * 6) Set cntrlLabel = CreateControl(frm.Name, acLabel, , cntrlText.Name, "Customer Name", intLblX, intDatY * 6) ' for Ordered Quantities Set cntrlText = CreateControl(frm.Name, acTextBox, , "", "Ordered Quantities", intDatX * 4, intDatY * 12) Set cntrlLabel = CreateControl(frm.Name, acLabel, , cntrlText.Name, "Ordered Quantities", intLblX, intDatY * 12) ' for Unit Set cntrlText = CreateControl(frm.Name, acTextBox, , "", "Unit", intDatX * 4, intDatY * 18) Set cntrlLabel = CreateControl(frm.Name, acLabel, , cntrlText.Name, "Unit", intLblX, intDatY * 18) ' Restore form. DoCmd.Restore DoCmd.Save acForm, frm.Name DoCmd.OpenForm frm.Name, acNormal, , , , acWindowNormal End Sub
---